Spermatophytes (seed plants): Angiosperms (flowering plants): Monocots: Commelinids: Poales

WEAKLEY'S FLORA (10/20/20):
Cyperus esculentus var. leptostachyus FAMILY Cyperaceae

INCLUDING PLANTS NATIONAL DATABASE:
Cyperus esculentus var. leptostachyus FAMILY Cyperaceae
INCLUDING PLANTS National Database
Cyperus esculentus var. sativus
INCLUDED WITHIN VASCULAR FLORA OF THE CAROLINAS (Radford, Ahles, & Bell, 1968) 030-01-019:
Cyperus esculentus FAMILY Cyperaceae
INCLUDING Manual of the Southeastern Flora (Small, 1933)
Cyperus esculentus
INCLUDING Manual of the Southeastern Flora (Small, 1933)
Cyperus lutescens
COMMON NAME:
Yellow Nutsedge, Yellow Nutgrass, Wild Chufa, Earth-almond
---
To see larger pictures, click or hover over the thumbnails.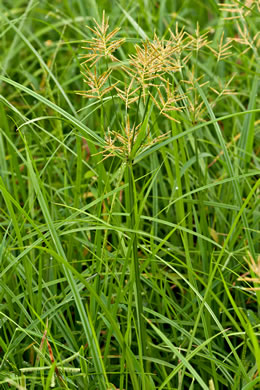 Keith Bradley kab_c_esculentus_78395
June Miami-Dade County FL
Inflorescence terminal. One floret in axil of each scale; scales two-ranked, per Wildflowers of the Eastern United States.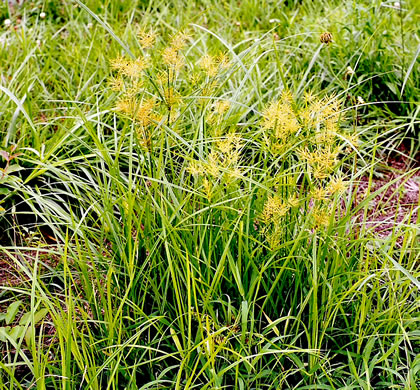 Terry Holdsclaw tdh_c_esculentus_leptosta
July Iredell County NC
Leaf blades 2-10mm wide. Bracts 3-7, 2-10mm wide, per Vascular Flora of the Carolinas.