Spermatophytes (seed plants): Angiosperms (flowering plants): Monocots: Commelinids: Commelinales

WEAKLEY'S FLORA (10/20/20):
Piaropus crassipes FAMILY Pontederiaceae

SYNONYMOUS WITH PLANTS NATIONAL DATABASE:
Eichhornia crassipes FAMILY Pontederiaceae
SYNONYMOUS WITH Total evidence phylogeny of Pontederiaceae (Commelinales) ... (Pellegrini, et al., 2018)
Pontederia crassipes
SYNONYMOUS WITH VASCULAR FLORA OF THE CAROLINAS (Radford, Ahles, & Bell, 1968) 039-01-001:
Eichhornia crassipes FAMILY Pontederiaceae
SYNONYMOUS WITH Manual of the Southeastern Flora (Small, 1933)
Piaropus crassipes
COMMON NAME:
Common Water-hyacinth
---
To see larger pictures, click or hover over the thumbnails.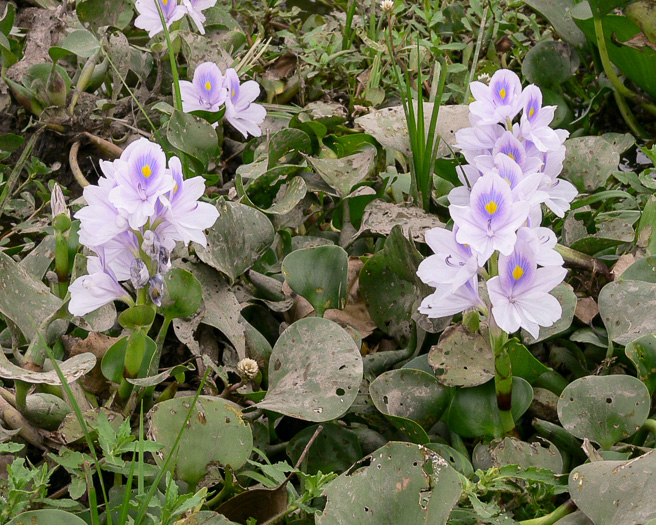 Bruce A. Sorrie bas_e_crassipes1_bol
July Bolivia
Leaves spade-shaped and curled upward on sides. Roots feathery, floating, per Field Guide to Aquatic Plants of Alabama.

COMPARE aquatic plants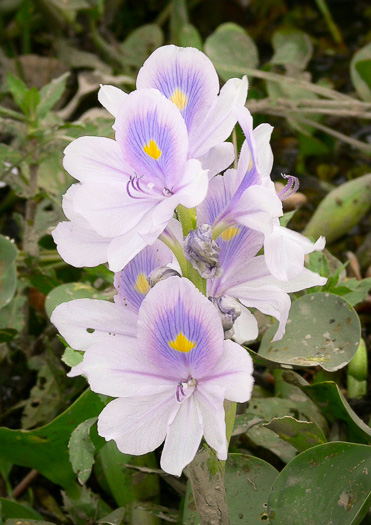 Bruce A. Sorrie bas_e_crassipes2_bol
July Bolivia
Perianth 6-parted, upper segment larger with yellow blotch at center, per Flora of China.