Spermatophytes (seed plants): Angiosperms (flowering plants): Eudicots: Core Eudicots: Asterids: Campanulids: Asterales

WEAKLEY'S FLORA OF THE SOUTHEASTERN US (4/24/22):
Solidago ptarmicoides FAMILY Asteraceae Go to FSUS key

---
Dig deeper at SERNEC, a consortium of southeastern herbaria.
Prairie Goldenrod appears in the field to be a short-rayed, white-flowered aster, somewhat similar to Sericocarpus linifolius. Read more at Vascular Plants of North Carolina.
---
SYNONYMOUS WITH PLANTS NATIONAL DATABASE:
Oligoneuron album FAMILY Asteraceae
SYNONYMOUS WITH Vascular flora of Illinois (Mohlenbrock, 2014)
Oligoneuron album
SYNONYMOUS WITH Flora of North America north of Mexico, vol. 19-20-21 (2006)
Solidago ptarmicoides
SYNONYMOUS WITH Britton & Brown Illus Flora of Northeast US & adjacent Canada (Gleason, 1952)
Aster ptarmicoides
SYNONYMOUS WITH Manual of the Southeastern Flora (Small, 1933, 1938)
Aster ptarmicoides
COMMON NAME:
Prairie Goldenrod, White Prairie-goldenrod, Upland White Aster
---
To see larger pictures, click or hover over the thumbnails.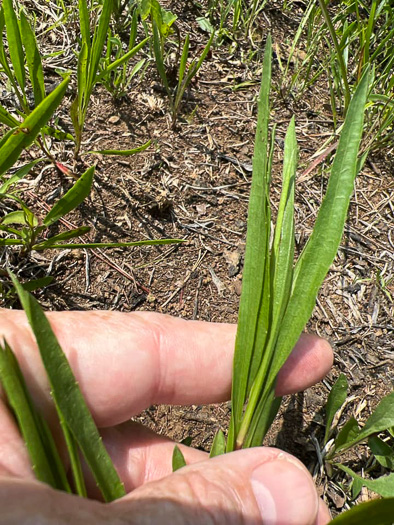 Alan S. Weakley asw_107489402356050
May Granville County NC
Leaves linear-lanceolate to linear-oblanceolate, the longer (10-) 15-20× as long as wide, per Weakley's Flora (2023).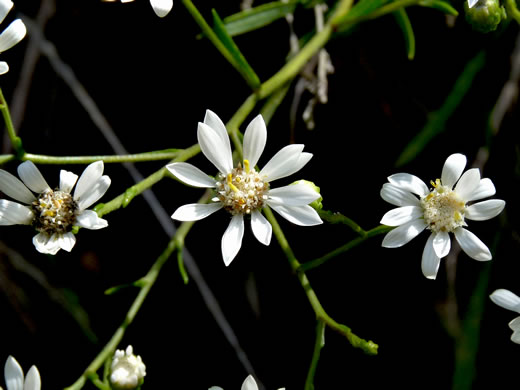 Richard and Teresa Ware rtw_solidago_ptarmicoides
August
Inflorescence corymbose (rounded). Rays white; more disk flowers than ray flowers, per Weakley's Flora (2023).
2289
Forb
Perennial

Habitat: Prairie-like barrens over mafic, ultramafic, or calcareous rock, serpentine woodlands, prairies, per Weakley's Flora
Native to the Carolinas & Georgia
Rare


CLICK HERE to see a map, notes, and images from Weakley's Flora of the Southeastern US.

Click here to see a map showing all occurrences known to SERNEC, a consortium of southeastern herbaria. (Zoom in to see more detail.)
LEAVES:
Simple

Leaves basally disposed (basal & lower stem leaves larger, petiolate, & usually persistent); middle and upper stem leaves smaller & less petiolate

Alternate & basal

FLOWER:
Summer/Fall
Rays: White (rarely pale yellow)
Disc: White (sometimes appearing yellow because of the exserted yellow anthers)
Inferior ovary
Disc flowers bisexual & fertile/ Ray flowers pistillate & fertile

Flower heads in corymbose inflorescences

FRUIT:
Summer/Fall
Achene

TO LEARN MORE about this plant, look it up in a good book!
---
If a search such as "Carex leptalea var. leptalea" doesn't deliver the results you want, try "Carex leptalea".
Or, to minimize chances of a misspelling, try just "Carex le".
Less is more: If "pencil flower" doesn't deliver the results you want, try "pencil".
Or try alternate spellings: If "wooly" doesn't work, try "woolly" or just "wool".