Wildflowers of Tennessee, the Ohio Valley, and the Southern Appalachians
Dennis Horn & Tavia Cathcart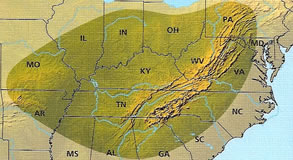 The coverage area of this book centers on Tennessee, but it encompasses the western Carolinas and half of Georgia as well. The plants are arranged by family, and the more complex families are preceded by a description and a key. For those averse to formal keys, there is a handy "color key" featuring 300 thumbnail images grouped by flower color.
The glossary is a helpful combination of alphabetically arranged verbal definitions and thematically arranged and remarkably communicative illustrations.
This — the official field guide of the Tennessee Native Plant Society — includes over 1250 species and 800 photographs.
Lone Pine Publishing